My hike began 4.5 miles east of Geology Tour Road
.
I hiked the Joshua Tree NP California Riding and Hiking Trail west from Twin Tanks on Pinto Basin Road, out and around Stubbe Springs Loop, and back--a round trip of about 33 miles. My initial pack weight was about 28 pounds (9 lb base + 1.5 lb food + 17.6 lb water). I took 8 liters of water but should have taken 10. This trip didn't include any night hiking.
Animal track "highway"
I brought my poncho tarp along for some pitching practice and to see if it might work as a shelter for the first 700 miles of the PCT. There was no rain and little wind during my hike, so I had an easy time of it. I wonder if I'd have the skill to pitch it when it really counts.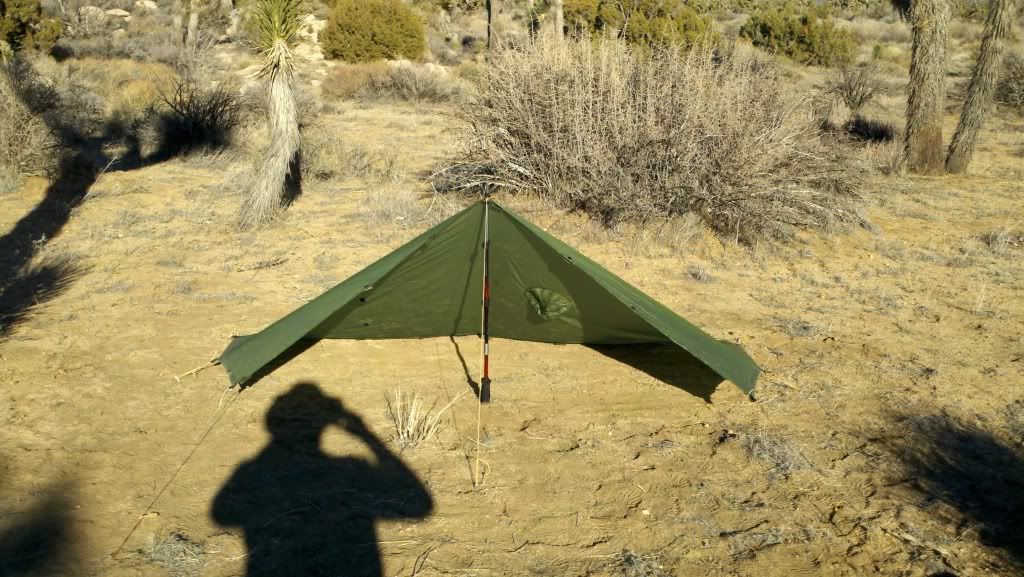 GoLite poncho tarp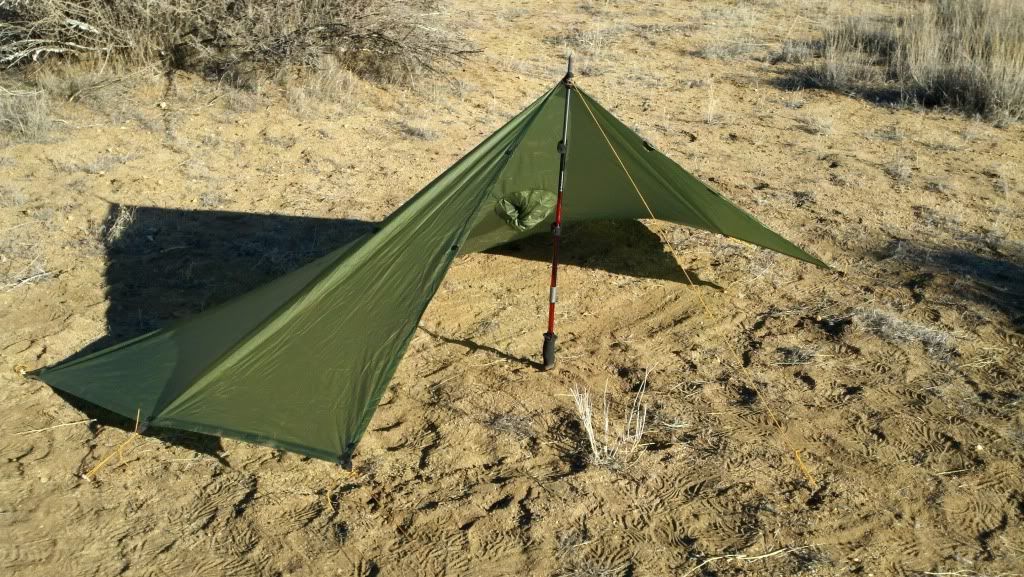 I like the idea of using a poncho tarp because it weighs only 7 oz and doubles as a rain jacket; however, considering how small the poncho tarp is (8.5' x 5'), I'd have to get a bivy sack. If I replace my 16 oz Shangri-La 1 tarp and 6 oz Frogg Toggs rain jacket with the 7 oz poncho tarp and a 5-10 oz bivy sack, I could save 5-10 oz overall. Right now, however, that's not enough weight savings for me to give up the convenience of an easily pitched, 360-degree shelter and separate rain jacket. The poncho tarp is a lot of fun, though.
As much as I like the GoLite poncho tarp and Shangri-La 1 tarp (discontinued in 2013), I've come to realize that neither of them is my ideal shelter. I think my ideal shelter would be a shaped tarp that can pitch with one pole and doesn't require the pole to stand right in the center if the tarp. I see something like a Six Moon Designs Wild Oasis or ZPacks Hexamid in my future. For now, though, the tarps I have should get me through my thru-hike.